This post first appeared on the USNI Blog here.
A couple months ago, retired Army Lieutenant General, and former National Security Advisor, H.R. McMaster argued that the American people are being fed a narrative of "war weariness" and its hindering our brilliant strategy in Afghanistan. He told the story of a young student—a millennial, no doubt—who stood up at a town hall debate and said all he's ever known is war. "Now, he's never been to war, but he's been subjected, I think, to this narrative of war weariness," McMaster said.
As I sit here trying to write this watchbill, all I can say is . . . Amen. Apparently, we're supposed to believe so-called "science" that people need an adequate amount of sleep to function. I guess we're all going to act like aviators now? If so, then put some teeth in regulations and let's see the resources. Meanwhile, I'll keep doing cheetah flips and multivariable calculus to make this watchbill work.
Letting sailors get enough sleep is all the rage right now. Ever since the Navy mandated a switch to circadian watch rotations in 2018, I've been required to let everyone on board to get seven hours of sleep a night. SEVEN HOURS!! What is this? Club Med? These millennials and their research are getting out of hand. If I can't have an ensign conn the ship 160 feet alongside an oiler on two hours of sleep over three days, I'm not even sure I want to be in this kinder, gentler Navy. How am I supposed to man a bridge watch team when everybody is snuggled up in their racks?
Getting a healthy amount of rest is all well and good, but when was the last time you tried to man all the ship's watchstations required by our various navigation, engineering, combat systems, and operational instructions? I guess I'll just pluck a few more sailors from the magical sailor tree on the fantail. Oh wait, there's no tree back there . . . just an aft lookout asking where his relief is. Who am I kidding? I'll just do what we always do: borrow sailors from other ships to fill in the gaps!
Until the surface community has something akin to Naval Air Training and Operating Procedures Standardization (NATOPS), nothing is going to change. The no-kidding crew rest requirement in NATOPS forced sleep to be woven into naval aviation culture. It drives operations. Commanders don't even consider violating pilots' crew rest except in the most extreme circumstances. Without NATOPS, we'd be waking up pilots to attend the menu review board. It also drives resourcing. Aviation squadrons maintain enough qualified pilots to meet mission requirements without violating crew rest. Surface warfare culture isn't limited to the lifelines of a ship. It extends to the Pentagon, to Newport, and fleet headquarters around the globe. If you're serious about giving sailors seven hours of sleep every night, then allocate the resources to meet our 24/7 operational demands. In the immortal words of Commodore Jerry Maguire: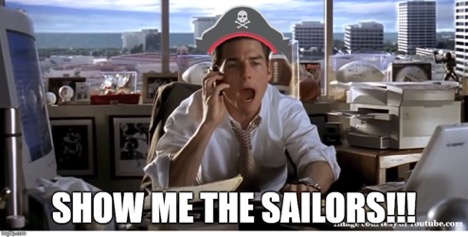 By the way, we've been talking about the importance of sleep for years. Now, it looks like there's real potential for change in our culture. If you give me enough sailors to make it happen, I'm happy to let everyone get seven hours of sleep. And without a regulation with real "teeth," our operational tempo, not to mention those administrative distractions we all love to malign, will eventually erode those seven hours. Otherwise, lets all agree to drop this "tired sailor" narrative and let me write a watchbill that I know will work.
Just like our strategy in Afghanistan.